2023 AWS Summit in New York: A Summary
The annual AWS Summit in New York City took the Javits Center by storm on Wednesday, July 26. With over 9,000 attendees and 115 sessions packed into one day in New York, there was a lot to take in. The keynote speech from Swami Sivasubramanian, VP of Databases, Analytics, and ML at AWS, stole the show, with over ten announcements about new products or services and updates. We've compiled the highlights here just for you. 
There's no surprise here– Sivasubramanian focused his keynote address on generative AI. 2023 was an explosive year for the technology, from overwhelming news coverage to major developments. The executive outlined the four areas that AWS has responded to with this major shift in the tech industry.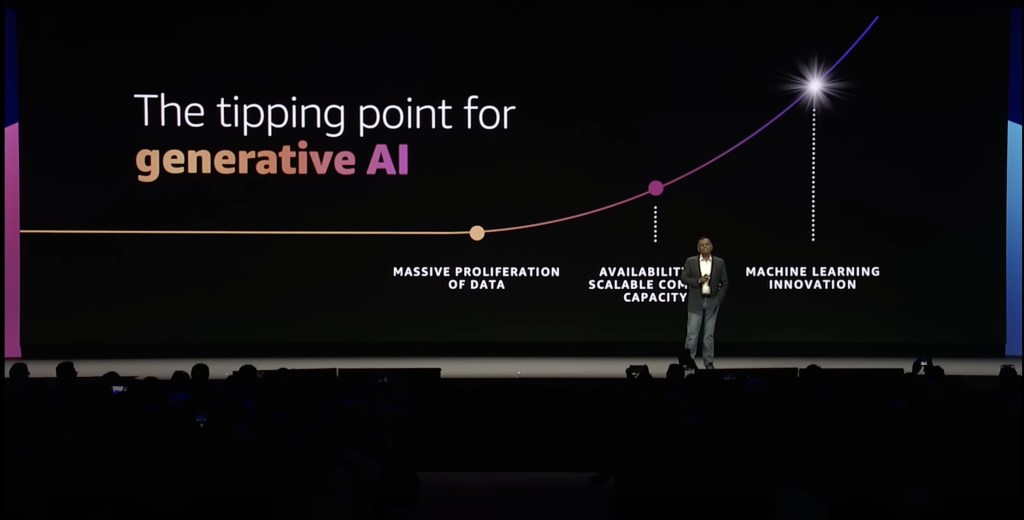 Sivasubramanian began by explaining how the tech industry has reached the current moment, which he called the "tipping point for generative AI." He claimed we're currently at a convergence point where the proliferation of data and the availability of extremely powerful computing capacity have allowed generative AI to take shape unlike ever before. It has evolved from users inputting simple data to receive simple outputs to deep learning to now– where users can input complex data and receive equally complex, sophisticated outputs. 
These new outputs, like lengthy conversational responses from AI or images, are what drove such a massive wave of excitement last fall. Sivasubramanian summarized the shift to new foundation models that has allowed for explosive growth in the last year. Traditional ML models require teams to spend months on data labeling and model training focused on one specific task. The neural net architecture that drives foundation models significantly cuts down on the development process. This architecture trains models with massive amounts of unlabeled data, which significantly cuts down on development time. These models can be used for a wide variety of tasks right away, and further adapted through fine tuning. These innovations have massively transformed AI and ML capabilities.
Sivasubramanian jumped into a major highlight of every AWS Summit– the announcements. AWS launched product updates and brand-new services that will empower customers to unlock the value of artificial intelligence, machine learning and business intelligence in four key areas.
Foundation Models to Build Applications
AWS expanded Amazon Bedrock with the addition of a new model provider and foundation models. Sivasubramanian introduced Cohere as a new foundation model provider that offers two models. Command is a text generation model for business applications like summarizations, copywriting, dialog, extraction, or query answering. Cohere Embed is a text understanding model for search, clustering and classification tasks across over 100 languages. Anthropic has launched Claude 2, the latest version of their language model with higher capacity. Stability.ai announced the release of Stable Diffusion, SDXL 1.0, which has improved image and composition detail to create more realistic versions for film, television, music, and more. 
Generative AI Services to Enhance Productivity
Announcing Generative BI capabilities in Amazon QuickSight
The new Generative BI capabilities in QuickSight allow business analysts to easily perform common tasks using natural language, like creating visuals in seconds a new QuickSight Q-powered visual authoring experience. Business users can use Stories, a new type of content, to generate, customize, and share compelling visual narratives using natural language prompts. 
Announcing AWS HealthScribe
AWS HealthScribe is a new HIPAA-eligible service designed to help healthcare software vendors build clinical applications that automatically generate preliminary clinical notes by analyzing patient-clinician conversations. The service automatically generates preliminary clinical notes from consultation audio for key sections, such as reason for visit, history of present illness, assessment, and plan. 
AWS Entity Resolution: Match and Link Related Records from Multiple Applications and Data Stores
This is an ML-powered service that helps you match and link related records stored across multiple applications, channels, and data stores. You can get started in minutes configuring entity resolution workflows, which traditionally require months to build. 
Enable Foundation Models to Complete Tasks With Agents for Amazon Bedrock
This new capability will allow developers to quickly create fully managed agents. Agents for Amazon Bedrock automate the prompt engineering and orchestration of user-requested tasks. 
Build data integration jobs with AI companion on AWS Glue Studio notebook powered by Amazon CodeWhisperer
AWS Glue Studio notebooks now support Amazon CodeWhisperer for AWS Glue users. Now, in your Glue Studio notebook, you can write a comment in natural language (in English) that outlines a specific task. Based on this information, CodeWhisperer recommends one or more code snippets directly in the notebook that can accomplish the task.
Purpose ML Infrastructure and GPUs for Better Performance and Lower Cost
Amazon EC2 P5 Instances Powered by NVIDIA H100 Tensor Core GPUs for Accelerating Generative AI and HPC Applications Amazon EC2 P5 instances are the next-generation GPU instances to address customer needs for high performance and scalability in AI/ML and HPC workloads.  P5 instances are powered by the latest NVIDIA H100 Tensor Core GPUs and will provide a reduction of up to 6 times in training time (from days to hours) compared to previous-generation GPU-based instances. This performance increase will enable customers to see up to 40 percent lower training costs. 
Introducing the Vector Engine for Amazon OpenSearch Serverless
The vector engine provides a simple, scalable, and high-performing similarity search capability in Amazon OpenSearch Serverless that makes it easy for you to build modern machine learning (ML) augmented search experiences and generative artificial intelligence (AI) applications without having to manage the underlying vector database infrastructure.
Access to Education and Training Opportunities
AWS offers new artificial intelligence, machine learning, and generative AI guides to plan your AI strategy 
To help you understand your options in relation to AI and ML, AWS has published two new guides: the AWS Cloud Adoption Framework for Artificial Intelligence, Machine Learning, and Generative AI and the Getting Started Resource Center machine learning decision guide. 
New technical deep dive course: Generative AI Foundations on AWS
This free, hands-on course gives you the conceptual fundamentals, practical advice, and hands-on guidance to pre-train, fine-tune, and deploy state-of-the-art foundation models on AWS and beyond. 
What a show! Our team is already looking forward to re:Invent 2023 later this year. If you're in search of a partner to help you navigate all that AWS has to offer, our team is more than happy to help.
Add Your Heading Text Here